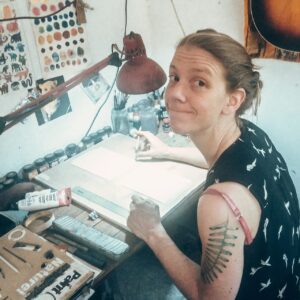 I am a Dutch writer, watercolor artist and illustrator living in Argentina.
All my life I have loved painting, drawing, books and stories. I studied Writing for Performance at the HKU in Utrecht, but when I moved to South America in 2015, my main focus shifted to painting, mostly watercolors. I started selling original paintings and prints, and participated in various exhibitions. But because storytelling is my biggest passion, book illustration is what I love doing most. My style has been described as playful, whimsical and unique.
Currently I live in the mountains of North-East of Argentina beside a little river, with a good dog, an evil cat and an awesome Argentinian blacksmith.
The price includes revisions within reason. The illustrator retains all ownership rights for the illustrations provided. The customer is granted the rights to reproduce the artwork, these rights may not be sub-licensed to any third parties. The illustrator must always be credited.