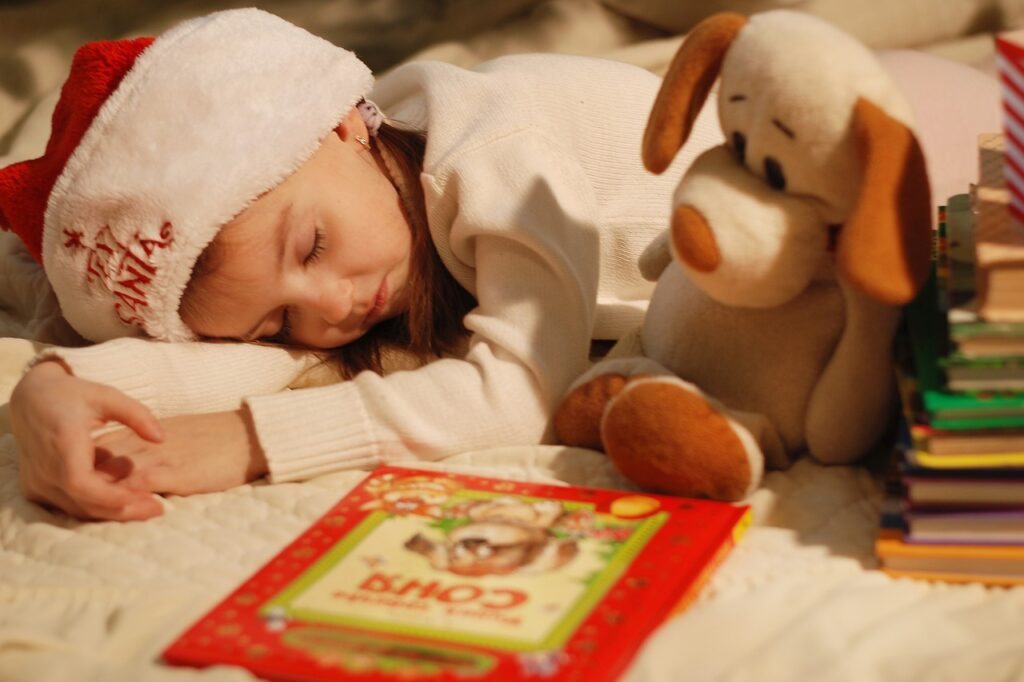 Whether you are looking for a Christmas Eve read or a stocking filler for your little ones, a Christmas picture book is a wonderful choice! Here is our guide to designing your own festive fairy tale.
Christmas time is just around the corner! Flashing fairy lights, snowball fights and waking up to hot chocolate and marshmallows… there's no doubt about it; we love the festive season!
One of the things we love the most about winter is curling up in a cosy chair next to a blazing fire with a good book. It's something everyone can enjoy, no matter how old (or young!) they are.
If you want to get your little one a storybook to read over Christmas time, have you considered making one yourself?
Creating a storybook means you can customise it, making your child the star of their very own Christmassy tale!
Customising your book specifically for your little one has other benefits too. According to the UK National Literacy Trust, a third of children don't see themselves in the books that they read. This makes creating a storybook a good way to encourage your little one to read more, either with you or by themselves.
You may think that writing your own storybook is going to be a challenge, but it's not as tricky as you think, and it can be a fun way to unwind during the festive season too!
Here is our guide to creating a Christmassy picture book that your little one will love.
1. Plan ahead
Ernest Hemingway famously said, "Prose is architecture. It is not interior design." This means that it is essential to plan your storybook from beginning to end before you start writing words and drawing illustrations.
Grab yourself a large cup of tea or coffee, a mince pie and a pen and paper. It's time to start planning the outline of your storybook!
Think about the following questions:
What will the genre of your book be? Will it be funny, true to life or inspirational?
What will the start, middle and end of your book be? Work these out first, and then you will be able to go back and add some extra details
Where will the storybook be set? Will it be at home, school or a fantastical setting like the North Pole?
Who will feature in your book? Your little one can be the star, but it can be fun to feature other people too, like parents, grandparents, siblings, friends… even the family pet!
What will be the key message (if any) that you want your little one to take away from reading the book? Not all books have to have a moral, but if you want to include one, then write one down
Don't worry about having all of your ideas fully fleshed out at this point. Even if you have a basic plan in your head, you can always add to it later on.
If you need some additional inspiration, ask your little one what their favourite Christmas movie is and watch it with them. Then, you can see what their favourite parts of the film are and weave them into your storybook!
Once you have your outline ready, it's time to write your story. Bear in mind that the focus is on the illustrations with a picture storybook, so you don't have to write a lot of words to accompany your festive tale.
2. Write your story
For a 4 to 8-year-old, the ideal length for a storybook is about 500 words. To put that into perspective for you, this article is about 1,000 words!
Here are some tips to help you write the words to go with your story.
Keep your words simple and your sentences short; this will make your story easy to read
Repetition is good as it can help young readers know what to expect from the story and help them feel confident in their reading
Onomatopoeia works really well in children's storybooks – these are words that sound like what they are describing. Think 'bang', 'snarl', 'beep' and 'giggle'
Many people think that a storybook has to rhyme. Don't worry about this – sometimes people focus so hard on trying to make words rhyme that they lose sight of the story
Next, you need the illustrations to go along with your words…
3. Think of your illustrations
With a storybook, illustrations play a vital part in the storytelling process. You want images and photos that will delight, inspire and engage your young reader!
You can create your own illustrations or get a friend who is a dab hand at drawing to help you with them. Alternatively, why not ask your little one for help creating the drawings for the book? Your words combined with their doodles are a wonderful combination and a keepsake they will cherish for years to come.
There are lots of excellent book creation sites (like BookBildr) that will help you with the images you need for your book. Just drag and drop the illustrations you want to use… job done!
If you want custom illustrations done by a professional illustrator, have a look at our Services page – our illustrators are ready to do the artwork for your book!
We hope that this short guide has given you the inspiration you need to create a fantastic festive picture storybook!
Create a wonderful Christmas storybook with BookBildr
BookBildr can help you create a stunning Christmas storybook. Just enter your text and use our library of festive photos and drawings to illustrate your book.
When your book is ready, download it, ready to read with your little ones, or alternatively, we can professionally print your book for you and post it anywhere in the world. Think of us as your Christmas elves!
If you can't be with a loved one over the holidays, why not send them a copy of your customised book and read it out to them on Christmas Eve over Zoom? It's the perfect way to wish them a very Merry Christmas.
Check out our site today and see how easy it is to create your own personalised storybook!