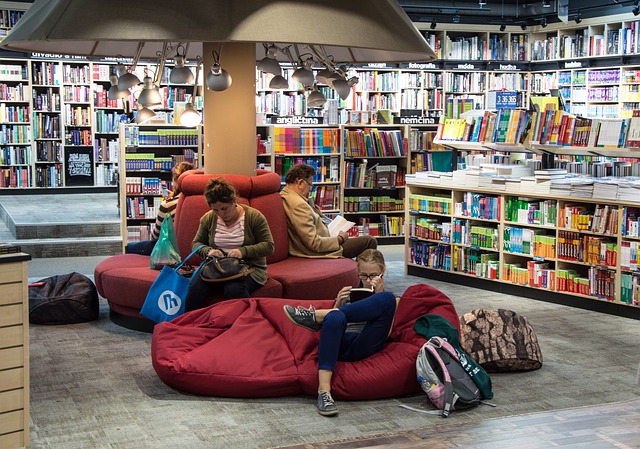 If you want to treat yourself and your family to some brand new books, but you don't want to use Amazon, it can be hard to find a suitable alternative.
Let's face it; Amazon can be so easy to use. One-click and your order will be winging its way to you. If you want to break the habit, here are five of our favourite online bookstores that you can use to bring the latest best-selling books to your door… all without lining Amazon's pockets!
1. The Book Depository
The Book Depository is our absolute favourite for a number of reasons:
It has free worldwide shipping, which means that you'll never get charged for your package no matter where in the world you are.
It has over 19 million titles that include all types of books for all ages. I was particularly pleased to be able to get US and British text books for my pre-schooler.
There are regular discounts and offers (I get coupons emailed to me regularly).
Most titles are actually cheaper than on Amazon, so it's a better deal overall.
There are other small perks like cute bookmarks included with every book – my son loves collecting them.
2. World of Books
If you are looking to replenish your bookshelf but your budget is low, World of Books offers high-quality used books at low prices.
These would generally be books that are sent to landfill, making World of Books a perfect choice if you are looking for a more environmentally friendly option. They source their books from sources including charity shops and libraries.
World of Books has a great range of books available, and sell to over 190 countries worldwide. They even sell vintage books if you are looking for something extra special, or a gift for your favourite bibliophile.
3. ebooks.com
Although nothing beats the feeling of having a book in your hands and turning the pages, ebooks have their advantages too. All it takes is one click, and the ebook is immediately on your e-reader or mobile phone! Plus, they are better for the environment.
Ebooks.com has over 1.8 million ebooks on offer and not only sell across the world, but have provided books to the International Space Station! You can download books in a variety of different formats, and they also provide links to software you can use to read your brand new book as soon as you have purchased it.
4. Wordery
Wordery is one of the world's fastest-growing indie online booksellers, and currently has a range of over ten million titles, from fiction and non-fiction all the way through to graphic novels. Wordery offers free worldwide delivery and also has a student's club where if you are a college or university student, you can get discounts as well as special offers throughout the year.
5. Hive
Are you worried that buying online will take money away from independent bookstores? If the answer is yes, why not check out Hive?
Hive is a British-based online bookstore which was established to help independent booksellers thrive. A percentage of every sale goes to a UK-based independent bookseller that you can nominate, which we think is amazing!
Note: Hive does usually ship worldwide, but due to COVID-19 they have suspended international delivery for the time being. They do sell ebooks and audiobooks though.
6. Better World Books
Our final online bookshop on this list, Better World Books sells a variety of new and used books, and provides shipping across the world.
If you're looking to shop more ethically, Better World Book is a fantastic choice. They donate a percentage of their profits to fund worldwide literacy programmes, and every time someone buys a book, they give a book to someone in need.
They even have a map on their website so you can see where books have been donated!
So there you have it… brilliant online bookstores that aren't Amazon. Not only can you shop sustainably by purchasing books second-hand, but you can make a real difference by donating to charitable causes.
Bonus: Kids Books
Kidsbooks.com is a children's book store with discounted prices. They position themselves as North America's largest outlet of publishers' excess inventory and thus they guarantee ridiculously low prices. You can get amazing books for as low as $1! If you have any doubts, don't worry – the books are new, unread and in great condition.
Kids Books offers free shipping in the USA and Canada for orders over $35. They also ship internationally to a large list of countries.
Which online books stores would you recommend?
P.S. If you want to shop more locally, why not check and see if your favourite local bookshop offers an online service? If they don't, you may be able to email your order through and collect it in store!