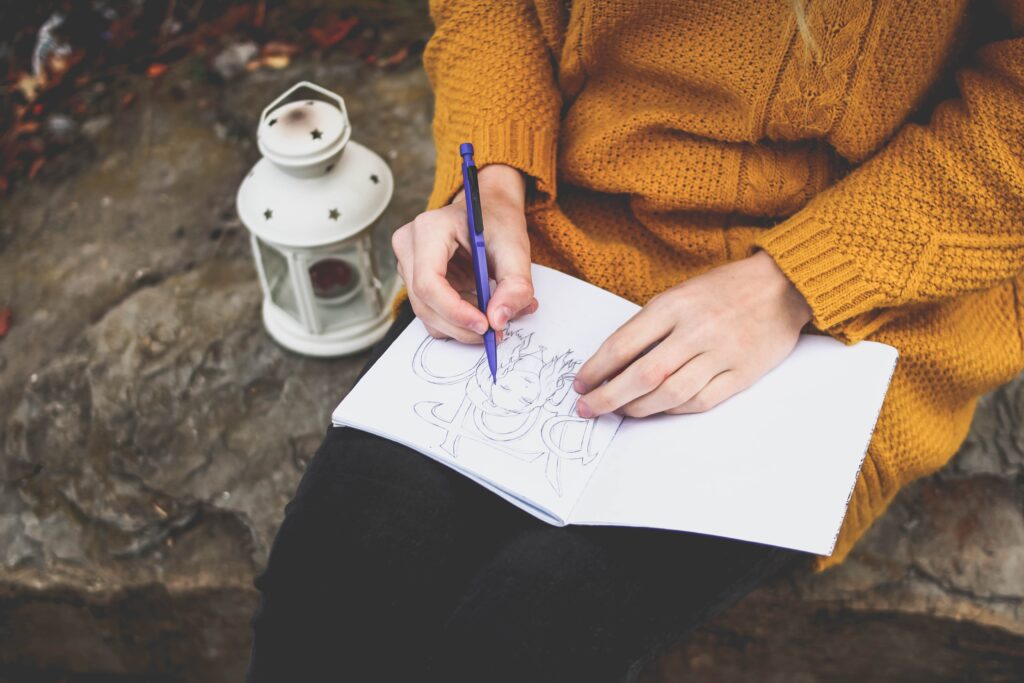 If you're looking to create a fabulous children's book for your little ones, you'll want to illustrate it with lots of fantastic, bright illustrations.
Pictures are a great way to draw children into your story and entertain them even more. Even if they can't understand all of the words, they can understand more about the book from the illustrations inside it.
Unfortunately though… we aren't all natural-born artists! Thankfully there is a great range of free resources online that you can use to add beautiful illustrations to your storybook. Here are six of our favorite ways you can do this. Go forth and be as creative as you like!
1. BookBildr
If you're looking for free pictures you can use legally and a tool to write and professionally print your book in one place, look no further than BookBildr. Our website has a library full of bright and colorful photos and illustrations you can use in your book. All of the graphics are available for commercial use without attribution, which means you can safely use them for practically any project.
Not only are we a fantastic resource for illustrations, but we also let you create your children's book from start to finish. You can write your story and drop in as many images you like – ours, your own, or a combination of the two. Once your book is ready, you can download it in PDF format to enjoy with your little ones, or if you are looking for something extra special… we can professionally print your book for you and send it anywhere in the world!
2. Prisma
Prisma is a free mobile app that you can use to transform your most-loved photos into works of art! As it's a mobile app, you can create fantastic images while you are on the go. Just choose a photo from your mobile phone gallery, choose a filter and let the app do its work.
Our favorite overlay at the moment is 'Mononoke', which gives your photos a cool anime feel! Prisma is available on both Android and iOS.
3. Absurd Design
Looking for something a little bit quirky to complement your book? Absurd Design offers lots of hand-drawn illustrations that will make your little ones laugh. After all, who wouldn't giggle at a fish with legs and a little bowler hat?!
The illustrations are free to download, but you do need to give credit to the artist when you create your book. You can do this by adding a little byline next to the image or creating a page at the end of the book with a list of credits.
4. Freepik
Whether you want to illustrate your book with photos or vector images, Freepik is a great option.
It's really easy to use, just search for the keyword of your choice, find the image you like and download it! They even group images together in collections if you would like a nice, neat cohesive theme for your book. The majority of images on this website are free to use, you just need to include a small attribution to Freepik.
5. Creative Market
You have to pay for the majority of content on Creative Market. However, if you sign up for an account, you will receive a weekly email with a collection of free resources, including images. These images come from a lot of up-and-coming designers, so if you are looking for a one-of-a-kind illustration for your brand new book, Creative Market could be a perfect choice.
6. Ouch!
Ouch! is a project by icons8, a fantastic resource for designers and anyone needing graphics. It was primarily built for business use, but it has a lot of fun and colorful illustrations that you can use to brighten up your pages. The great thing about this website is that there are thousands and thousands of images to choose from. Just use the search box or select a category, and you're well on your way. Like Absurd Design and Freepik, you need to provide credit for the images you use.
We hope that this article has given you lots of inspiration! If you've put together some awesome illustrations for your BookBildr book, we'd love to see your artwork. And if you want special art done by professional children's book illustrators for your project, check out our talented illustrators here.